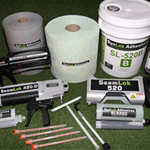 ESS and SynLok have combined their efforts to develop the latest in adhesives research & development with our innovative thinking and years of practical, hands-on synthetic turf installation experience. The results of these efforts are revolutionizing the synthetic turf installation industry one seam at a time!
SynLok is an eco-friendly manufacturer of non-hazardous polyurethane adhesives used for the installation and repair of synthetic turf systems. These proprietary adhesives and applicators were developed from years of synthetic turf experience combined with cutting-edge chemical engineering. The result is a product line that features numerous advantages to both synthetic turf installers and field owners.
As always, ESS has taken the approach of making athletic fields perform better and safer for athletes. Our technologies are designed to provide best practice solutions, eliminating the most common problems associated with any athletic surface. SynLok addresses one of the most common issues encountered with synthetic turf systems…surface continuity. Seam integrity is paramount to the safety and performance of your synthetic turf system.
We have adhesive systems which improve the quality of initial installations with ESS Turf Claw. Turf Claw is environmentally friendly and has no solvents or VOC's. It provides superior seam strength, greater than any other one-part turf adhesive on the market.
If you have an existing field with seam failure, then ESS' SeamLok Repair Systems are the only solution tested and proven to be effective for synthetic turf repairs. No more trying to get your turf vendor back on the project for a seam repair. These systems are designed for simplicity and ease of installation so that anyone can perform simple synthetic turf repairs.
Both of these ESS systems are designed to reduce labor and material costs for installers and owners of synthetic turf. As always, it is ESS' goal to provide the athletic field industry with eco-friendly materials which increase both the performance and life span of your synthetic surface.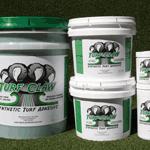 TURF CLAW 1-Part Polyurethane Adhesive
A non-hazardous, one-part, polyurethane adhesive for synthetic fields.
Learn more about ESS Turf Claw for Synthetic Fields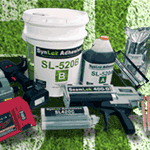 SeamLok 2-Part Polyurethane Adhesive
A non-hazardous, two-part, polyurethane adhesive for the installation and repair of synthetic fields.
Learn more about ESS SeamLok Repair Technology for Synthetic Fields