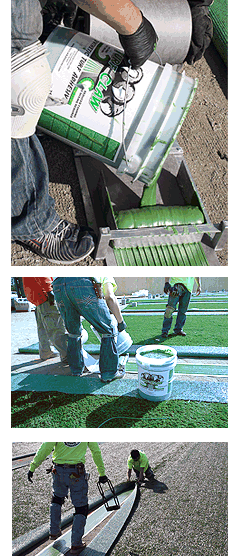 Turf Claw is a viscous, single-part, moisture-cured, polyurethane adhesive, formulated for the seaming of indoor and outdoor synthetic turf to a variety of substrates. Since it is a 100% solids liquid, it can replace solvent based contact adhesives with complete elimination of VOCs without affecting performance. Turf Claw contains UV sensitive dyes for high visibility of any adhesive squeeze out. This product is easily applied by trowel or extrusion with a simple glue box applicator. 
For optimum adhesion, surfaces to be bonded should be clean, dry (or slightly damp), and free of surface contamination. No mixing is required; just apply the adhesive to either or both bonding surfaces. No open time is needed; bonding surfaces can be assembled immediately.
Applications:
Synthetic Sports Fields, Playgrounds, Lawns, and Putting Greens.
Advantages:
0% VOCs, which mean Reduced Freight Costs
Nitrogen Capped
Best Adhesion by One Part Adhesives in the Industry
Quick Green Strength
Little to No Foaming
No Solvents
No Mixing Necessary
Easy Spreading for Faster Application
Tacks in 30 minutes and has a Quick Cure Time
SeamLok 1100 Seam Tape - Eleven (11) inch wide 6-8 oz Non-Porous 100% Recycled Seam Tape - 330 Ft per roll
Turf Claw Glue Box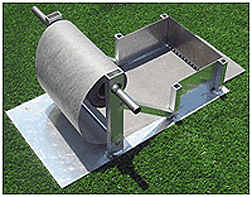 Custom fabricated glue box