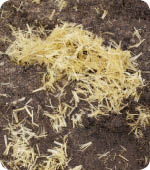 As part of the reinforced system, ESS Sport Grids help provide a consistent athletic surface that can be worked and maintained with conventional equipment. They are designed specifically for easy spreading, mixing and fine grading. Fiber reinforce-
ment can be used for complete field stabilization or in selected high wear areas.
ESS Sport Grids are engineered to meet the unique requirements of your project.
The synthetic fibers are engineered and manufactured for root-zone and soil stabilization. They are manufactured from polypropylene and are non-toxic to
plants, animals, and humans. These fibers are incorporated into the soil profile at a depth of 4 to 6 inches where they act as a mass of indestructible roots. These roots intertwine and interlock with the fibers resulting in reinforced turf that is extremely strong and that resists devoting and rutting.  
Advantages:
Safe and Non-Toxic
Provides a consistent athletic surface
Easy to install, mix, and/or grade
Resist damage
Promote strong grass growth
Resists the divots, pits, tracks, and marks
Project References:
Tennessee Titans Stadium
LSU Tiger Stadium
San Anita Race Track
Rutgers Soccer Field
TPC Golf Course at New Orleans
Additional Links:
http://www.fibersoils.com
http://www.geosyntheticsolutions.com
http://www.tenax.com